Motor Module
for SliderPLUS
Transform your SliderPLUS into a professional motion control system
Box Contents
Motor Module, connection screws for Motor Module, Sony NP-F Battery Bracket, AC/DC Adapter, allen key.
Size (L x W x H)
5.3 x 3.18 x 2.59 in (135 x 81 x 66 mm)
Incline Capacity
Up to 22.5° with 5.5 lb (2.5 kg)
(you can achieve steeper inclines with the help of Vertical Module for SliderPLUS)
Max. speed on tripod
2.52 in/sec (6.42 cm/sec)
Max. speed on ground
1.26 in/sec (3.21 cm/sec)
Number of axes
Single (the slide motion)
Motor type
Step motor with ultra high-res encoder.
Power input
2 x NP-F type battery (Batteries NOT included) (Sony NP-F Battery brackets included)
Alternatively, 2 x LP-E6 Batteries can be used (if LP-E6 battery brackets are purchased separately)
Battery life
With 28.8 Wh energy (1 Canon LP-E6 battery is 14.4 Wh)
Operates 2 hours (continuously at full speed)
Shoots 12000 photographs (in Time-Lapse mode)
Shutter trigger cable socket
2.5 mm (Shutter trigger cable is sold separately).
Compatibility
To all SliderPLUS Models manufactured after 2018.
Can be paired with
HeadONE (Both in single or dual modes), Pan Module, HeadPLUS
Can be controlled
edelkrone App, Controller for edelkrone Moco
Mobile device connection
2.4GHz direct link for inter-device communication and BLE for pairing / mobile phone connection
App. compatibility
iOS 11.0 or later & Android 5.0 or later
Materials
CNC machined aluminum and stainless steel components.
DC plug specs
Voltage input: 100-240V, Voltage out: 9.0V, Current output: 2.2A, Polarization: positive center, Output connector: Barrel plug, 2.1 mm I.D. x 5.5 mm O.D x 9.5 mm
Can be hand-controlled
You can manually adjust the positions of SliderPLUS (and HeadPLUS) while Motor Module is attached. Instead of relying on a remote control, you can program your camera motions with just your hands! This gives an unprecedented speed to your workflow, and makes the whole process much more intuitive.
Macro-precise, loopable motion
Motor Module provides the necessary smoothness for macro shots and perfect steady speed control throughout the whole slide thanks to its mechanical design with backlash free gears.
Perfect for visual effects
Motor Module can repeat any motion perfectly. Add some masking magic with your favorite video editing software and wow your audience in no time!
Ability to do tasty inclines
Thanks to the new design of SliderPLUS, you can now do inclines up to 22.5° (climb/descend) when paired with Motor Module. While doing inclines, the use of motorized heads is not recommended.
You asked, we listened
The new Motor Module now has a status screen for instant feedback as well as better wireless connection & longer range. We also added auto power off and power-saving modes for better power management. Motor Module is now quieter than ever and we didn't forget the highly requested ON/OFF button! :)
Perfect on the inside
Super Accurate Backlash-free Gear Design
All edelkrone motorized products use the same backlash-free gear design technology for perfectly repeatable, smooth motion for even the most demanding shots. Even the most portable edelkrone devices have heavy-duty gears assuring lifetime good performance.
Ultra Quiet Step Motor Driving Technology
All edelkrone motorized devices have a unique quiet step motor driving technology that combines ultra precise step motor positioning ability with ultra quiet operation. Step motors are perfect for precise motion control but until now their downside has been the noise they make. With edelkrone motorized devices, you will get the world's most precise positioning with the quietest performance.
Connects wirelessly to edelkrone Heads
Having a motorized head on SliderPLUS + Motor Module opens the door to amazing 2-, 3- or 4-axis camera motions which can be easily programmed and repeated. You can record never-before-seen, amazing motion time-lapses and visual effects shots with these combinations. The devices pair instantly in the background while using the same App or controller to control all devices together.
Super easy time-lapse programming
Setting up a motion time-lapse is the easiest with edelkrone App. In your time-lapse videos, you can have a simple transition between two keyposes or you can convert a recorded complex camera motion into a time-lapse with a single button. You can use edelkrone's unique Dynamic Interval and Dynamic Step Size Technologies to introduce never-before-seen effects to your time-lapses which bend the speed of time and speed of camera motion independently of each other.
▼
Controlling Options
edelkrone App
The edelkrone App stands out as a comprehensive and intuitive control platform, designed to seamlessly and wirelessly control all edelkrone devices from both Apple and Android devices. Learn More.
More Options?
Beyond the edelkrone App's wireless capabilities, did you know that there are diverse ways to control and integrate your edelkrone devices? Whether through custom software, wired connections, or third-party integrations, there's so much more to explore. Learn More.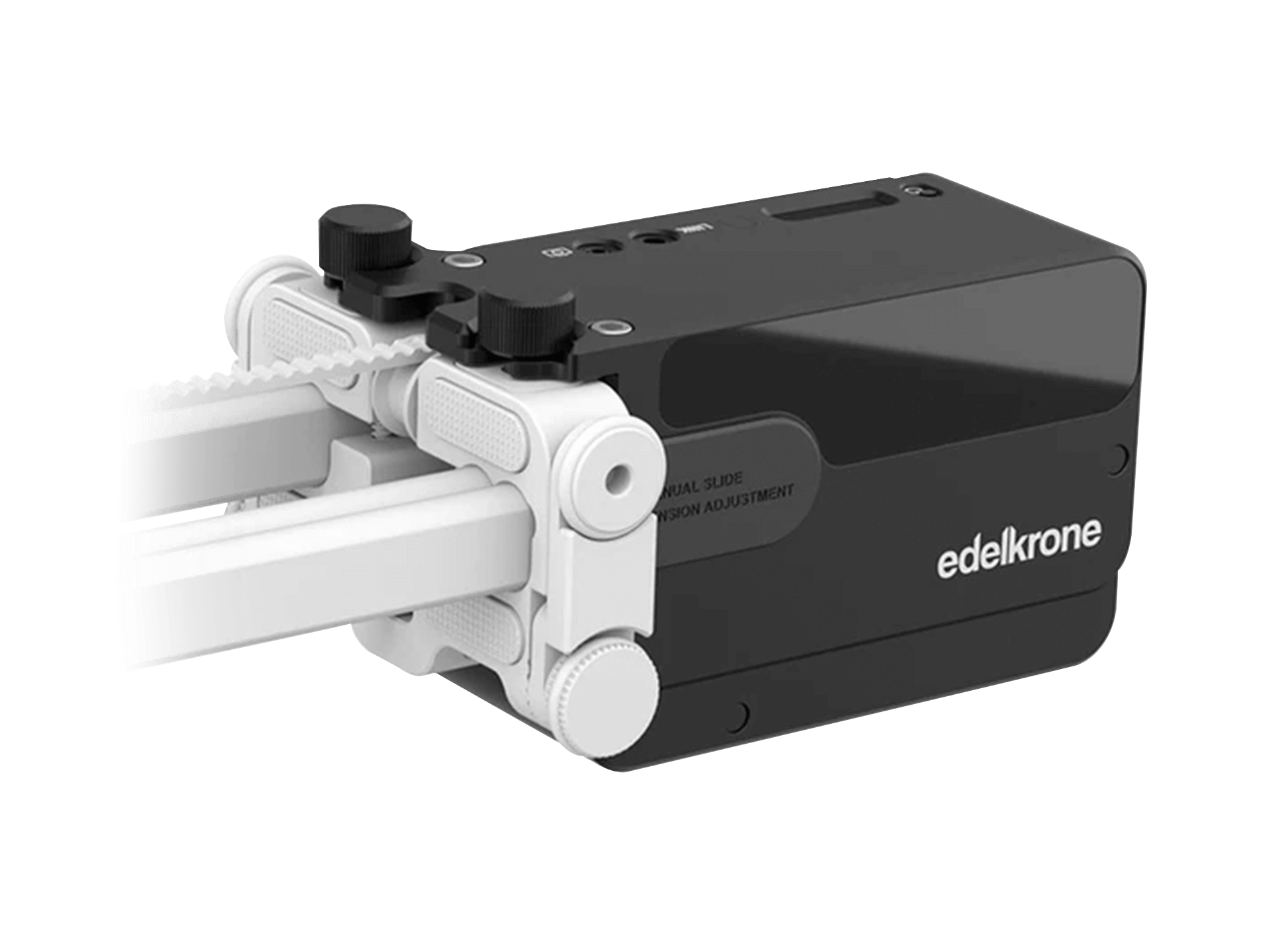 Motor Module for SliderPLUS