FlexTILT Head 3D
3D printable version of our best-selling tripod head, FlexTILT Head 3D is the ultimate pan & tilt solution to frame your shots easily and freely.
Creative features
in one package
FlexTILT Head 3D is the 3D printable version of our best-selling tripod head. It's the ultimate pan & tilt solution to frame your shots easily and freely.
NO BUTTONS. NO LOCKS. NO KNOBS. The joints on FlexTILT Head 3D use edelkrone's one-of-a-kind constant friction technology.
Gives instant height adjustment without dealing with the tripod. Easily pulls out as needed, and adjusts to the exact position you want.
Extend your camera beyond obstacles or easily setup bird's-eye-view shots.
Increase your dolly in/out range with any slider.
Unlike other camera heads, FlexTILT Head 3D can also work on flat surfaces as a camera stand without the need for legs.
Achieve precise panoramas with pan marking and lens center shifting.
Recommended camera load: 5.5 lb (2.5 kg) or less.
Reviews
Find and read inside stories from users like you!
Customer Reviews
Write a Review
Ask a Question
AP
06/15/2021
Antti P.

Finland
Nice head, some screws ******* things a bit
The head is nice. I like the fact that it allows camera to lean over e.g. slider and not just tilt like normal head. I also like that I can adjust it with one hand. I will probably order another one for my DSLR webcam soon. Printing takes some time with Prusa MK3S+ and I had my share of warping issues before using glue. Probably because of lower quality filament (but I wanted that color). One screw in this kit, and another on the Skater kit I also bought, had thread issues. At this price and quality point, I would expect Edelkrone would have used a better screw supplier. Unfortunately M3 screws are not the easiest to find, luckily I had one from Prusa kit left.
04/02/2021
Stefano G.

Italy
Good Quality and precision
I 3d printed the parts and the result is awesome and already used. Nice
TP
03/30/2021
Thomas P.

Germany
Great idea - it works well
It really works well. The only thing that bothers me a bit is the top most part where the camera gets mounted. The two parts have nothing that fixes the connection. Therefore you have to use some extra glue to help it. Some kind of mechanical fixation would be awesome.
03/17/2021
Tom M.

Luxembourg
Great!
Works like it should
03/15/2021
Paul S.

Germany
Please look here.... https://www.instagram.com/p/CL_x8IxFvgR/?igshid=1vouq2htqfaqe
03/03/2021
Jeremy G.

United Kingdom
As a hobbyist, this was a perfect product. Really easy to print and assembly is very easy and clear with both printed and video instructions. Really helpful in allowing for quick flexibility in product photography and can easily be adapted for other applications. Really happy with the quality (of both the 3D files and the metal hardware shipped) and functionality.
03/03/2021
Juan F.

Spain
A+ Design
Everything fitted perfectly and snugly. Nothing bad to say works like a charm and the 3D models are extremely well designed with easy printing in mind
02/15/2021
Tom M.

Luxembourg
RC
02/02/2021
Rodrigo C.

Portugal
Great product
I love being able to print most of the parts at home and assemble it from there. This one acts as my second FlexTILT Head as I have an original/metal one which I mainly use, and the feel is pretty comparable, particularly for my GH2.
01/13/2021
Luis C.

Spain
Flex Tilt Head
Very good experience and great quality of finish
12/31/2020
Jim K.

United States
What a great thing!
Piece of cake. Works real well as long as I keep the Allen key handy. Thanks.
12/14/2020
Peter O.

Germany
Top product
Very Good Build Qualität. Ì´ve recommended ist to my Friends. For sure Not the Last Part from edelkrone.
12/11/2020
Vincent L.

Canada
FlexTILT Head 3D
The quality of the parts sent to me is exceptional. I haven't print the remaining parts yet because I'm still waiting for my 3D printer.
TJ
11/25/2020
Tobias J.

Germany
A bit difficult to print everything properly
After three values are finally managed to print everything properly. Sadly one of the free stream of the camera mount screw was Broken, So I needed to fix it myself
11/24/2020
Patrick N.

Germany
10/23/2020
Kristi W.

United States
Flex Tilt Head 3D
I recently tested this out in our scanning lab and it has worked really well so far. We'll see how it holds up over time. It held my DSLR and various lenses with no problem. However, I wish it was a bit easier to adjust instead of relying on the allen wrench provided. Perhaps a future design could consist of adjustment knobs.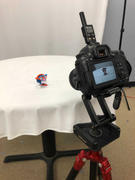 10/21/2020
Stefan K.

Germany
Super Qualität
TOPPPP weiter so ich freue mich auch viele weitere Produkte
10/19/2020
Gianluca P.

Italy
10/14/2020
Steve J.

United States
Awesome
I read and watched a number of reviews before ordering this. The price, with shipping seemed a little high for the few parts that were shipped. I was wrong. The quality of the parts was outstanding. Once I considered the obvious time and care in developing the 3D printed parts .The price is a real bargain. I printed mine at %90 infill using PLA. I was extremely impressed with the design. I have not experienced any of the weakness I read an heard about in the reviews. I hope you have more products in development.
10/09/2020
Johannes S.

Germany