INSTANT ADJUSTMENT
Constant Friction
Knob-less
Design
STABLE
SHOTS
ANYWHERE
POCKET
RIG
2 includes a comfortable and fully adjustable support arm that you can easily unfold and use as a
rifle-like
stabilization solution.
By using the belt groove on the shoulder piece, you can use the POCKET
RIG
2
like a monopod
and achieve very stable shots without getting tired.
POCKET
RIG
2 includes
15mm
industry standard rods that can unfold instantly. You can attach follow focuses, matte boxes and standard handles on the rods easily. With its unique design,
the rods can extend up to 18cm.
HANDHELD TO
TRIPOD
INSTANTLY
POCKET
RIG
2 has a
1/4 inch
connection hole underneath, so you can attach it on a tripod and use it as a base plate solution.
POCKET
RIG
2 is great for all sorts of video productions where you need to work
light
&
fast
.
Reviews
Find and read inside stories from users like you!
Customer Reviews
Write a Review
Ask a Question
04/12/2021
Gernot F.

Germany
PocketRIG 2 is really good
Really a good product
03/17/2021
Dimitris K.

Greece
perfect tool
very helpful, it is what I need. love this
SM
03/16/2021
Stefano M.

Italy
Ottimo
Ottimo ma un po' pesante e macchinoso da gestire per il resto un buon aiuto
02/19/2021
Pete A.

United States
Just perfect ...
I absolutely love the simplicity and utility of this.
12/04/2020
Christoph F.

Germany
Screws are loose
1. the screws from the floor which you attach to a tripod plate were loose, our camera almost fell off. 2. the rods for the Follow Focus move when you turn the focus wheel.
10/09/2020
christoph v.

Netherlands
No.2 is really great
in 2011 I ordered the pocket rig version 1. The concept was good but I hardly used it. When it arrived it was damaged, rusty and looking like a demo version. I recently saw the Pocket rig 2 and the improvement is huge. It arrived yesterday and I shot a staff video with it today. Amazing piece of Kit. Versatile, lightweight, strong and really helpful as a rig. Well, pocket rig. The size is super small compared to the function you get out of it. It looks great and is really well engineered. It's so easy to use, it should be part of your standard film kit.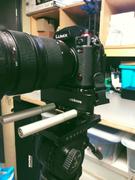 08/19/2020
Mingus

United States
Nice piece of gear but a little on the heavy side
I liked it but found that I'll have to try and get used to using it hooked into my belt. With everything attached (camera w/cage, lens , follow focus , monitor , ) it's just too heavy to try and shoot from my shoulder with it. The part itself is very heavy for the size of it. I think I just need to practice more as have been used to shoulder rigs in the past.
08/18/2020
Max M.

Italy
Rock solid
Rock solid superuseful piece of equipment, as all Edelkrone product.
08/17/2020
Manfred B.

Germany
Experience with PocketRIg2
The item is quite havy and therefore not ideal for my video camera.
07/02/2020
Sartaj R.

United States
Edelkrone stands by its warranty.
Amazing thank you for resolving the warranty and replacing the parts at no cost. I now am looking at buying your other products as I know you stand by your warranty. Thanks
06/02/2020
Greg R.

United States
PocketRIG 2
Great and easy to use
04/27/2020
timothy n.

United States
A great versitile way to improve handheld shots
The device is brilliantly engineered and works particularly well with the manual follow focus. A great addition to any run and gun rig.
04/13/2020
Vincent v.

United Kingdom
Excellent products and service
I've a few Edelkrone products now. Beautifully made and they work smoothly and to spec straight out of the box. Delivery and order processing is very professional as are their manuals. I recommend this company very highly
03/09/2020
Hendrik T.

Germany
Awesome piece of equipment
This is the perfect rig for small, flexible productions!
02/11/2020
Carlos A.

United States
The perfect companion for my cameras
Loved using the Pocket Rig 2. What's not to love? It's size is perfect for travel and the different ways of using it make such a valuable part of my workflow. Edelkrone, YOU GUYS ROCK!
12/25/2019
Philipp K.

Germany
Top!
Great Quality. Many functions.
12/24/2019
Marco D.

Italy
Usefull!
Very usefull indeed!
12/24/2019
Michael D.

Philippines
Compact and very sturdy!
I was happily surprised that the PocketRIG 2 can handle a caged Blackmagic Pocket Cinema Camera 4k with a V-mount battery mounted on the 15mm rods in the front.
12/19/2019
Hans v.

Netherlands
Prima Rig
Handig en compact
12/05/2019
John S.

Ireland
Super bit of kit.
We have set it up with one of our cameras and we used it for an extended period and it worked really well. Keep up the good work EdelK